You've likely heard of spark plugs, but you may not realize how much they do to keep your car running. Your spark plugs create electricity that ignites the air-fuel mixture in your combustion engine, starting your car. They then set the pistons in your engine in motion, providing the necessary power to keep your car moving. Keeping up with regular car maintenance services like tune ups will keep your spark plugs and engine healthy. But what are the signs you need to replace your spark plugs?
DO YOU HAVE TROUBLE STARTING YOUR ENGINE?
Your first instinct when your car won't start may be your battery. Pay attention to the details, like whether dashboard lights come on or not, because it could also be your spark plugs. If your spark plugs are worn or clogged, this can make it more difficult for your engine to start.
SPARK PLUGS AND HARSH WEATHER CAN BOTH PLAY A ROLE
It will be even more difficult to start your engine with worn spark plugs under harsh weather conditions. Given that this is also true if an old battery is to blame, the best way to be sure is to have a mechanic take a look. They can test both your battery and your spark plugs to determine which is causing your current problems and then replace any necessary parts.
Related: Older Transmission Maintenance
Related: Why Does It Feel Like My Transmission Is Slipping?
Related: What Does Healthy Transmission Fluid Look Like?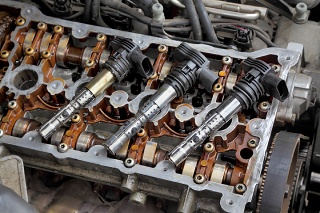 DOES YOUR ENGINE SOMETIMES MISFIRE?
Whenever your engine misfires, you'll notice jerking or halting in your forward motion. There are also several possible causes for a misfiring engine, though the most common cause is a worn spark plug. Because your spark plugs are responsible for igniting the air-fuel mixture, a worn spark plug that cannot do that efficiently may cause your engine pace to falter then catch up as ignition finally takes.
ENGINE MISFIRES CAN DAMAGE THE CATALYTIC CONVERTER
While a misfire can be frustrating and even shocking to you when it happens, it can also cause real damage to your catalytic converter. Each time your car misfires, it sends raw fuel into the exhaust system, which then passes through the catalytic converter. That's why it is important to find the reason behind any engine misfire before more serious damage is caused.
IS YOUR FUEL ECONOMY SUFFERING?
Again, several car problems can cause poor fuel economy. One possible reason is worn spark plugs because they cannot effectively burn the fuel. This can also be a subtle symptom that's hard to notice as well as determine the cause on your own.
WORN SPARK PLUGS MEAN MORE WORK FOR YOUR ENGINE
Simply put, your engine has to work harder to get going and keep going when you have one or more worn spark plugs. This means it will probably burn through more fuel than usual, though like an overdue oil change, it may or may not be noticeable enough for you catch on its own.
DO YOU HAVE TROUBLE ACCELERATING?
Similar to a misfire, you may notice difficulty accelerating if you have a worn-out spark plug. This is because that spark plug can no longer ignite the fuel-air mixture in the combustion chamber of your engine. This can present as a misfire or simply as a hesitancy to accelerate when you press the gas.
SPARK PLUGS ARE RESPONSIBLE FOR IGNITING THE AIR-FUEL MIXTURE
Really, spark plugs keep your engine going. Without healthy spark plugs, your engine cannot run efficiently because fuel passing through the engine is not properly ignited and therefore not all of it is being used as it should be.
HAS YOUR CHECK ENGINE LIGHT COME ON?
If you have a worn spark plug, especially if you're experiencing misfires, you'll probably also see your Check Engine light come on. Any time your Check Engine light is illuminated, it's a clear sign you need to get your car to a mechanic to be inspected. A common reason for this light coming on is a worn-out spark plug, especially in if you're also noticing any of the above symptoms.
AAMCO BAY AREA IS HERE FOR ALL YOUR CAR MAINTENANCE NEEDS
Whether you need a major car repair or regular auto maintenance, our expert mechanics are here to help. From worn spark plugs to transmission repairs, we can accurately diagnose and repair any car problem you're experiencing so you can feel safe on the road.