A drive shaft is a rod-like component that transmits torque from your vehicle's engine to the wheels. It's essentially the shaft that drives your vehicle. The driveshaft transmits torque at varying angles between driveline components. It's important that the shaft assembly is flexible because drivetrain axles vibrate up and down and move laterally with braking and acceleration. The driveshaft assembly comprises of; the propeller shaft, universal joints, slip splines and yokes.
HOW DOES THE DRIVESHAFT WORK?
It's important to note that front-wheel drive vehicles don't have drive shafts. The transmission and axle are combined into a single unit called a transaxle. However, in four wheel and rear wheel drive vehicles the transmission and axle are separate units. Hence the driveshaft which transfers the turning motion of the transmission to the axle.
This component has a tubular design and is usually made from aluminum, steel or carbon fiber to ensure its both strong and lightweight.
SOME COMMON SIGNS OF A FAILING DRIVESHAFT
It's important to note that the driveshaft by itself rarely fails. However, due to excessive stress and corrosion it will eventually exhibit signs of failure.
1. INTENSE VIBRATIONS AND SHUDDERING
Vibrations and shuddering are the most common sign of a failing driveshaft. If the bushings or U-joint wear out you can experience excessive driveshaft vibration. This may also result from the driveshaft not being bolted down properly or the unit being out of balance. A driveshaft that's vibrating excessively can also cause the wearing of other drivetrain components.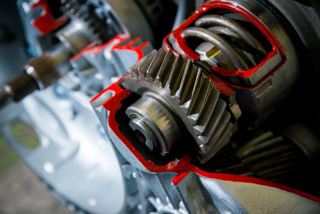 2. UNUSUAL NOISES
Unusual noises are another indicator of a worn drive shaft. If the bearings and bushings that support the driveshaft and U-joints fail or get worn they affect the driveshaft's ability to rotate normally. When this happens, you will experience scraping, squeaking, clanking and rattling sounds. If you hear any of these noises its critical that you schedule an appointment with our technicians at AAMCO Bay Area.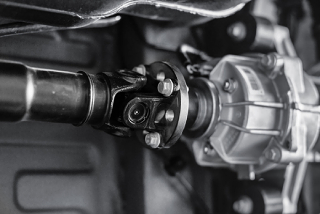 3. SHUDDERING DURING ACCELERATION
Are you experiencing a significant amount of shuddering as you accelerate from low speed or a stop position? This is another key sign of failing driveshaft components. A worn center bearing or loose U-joint may cause this. You may also experience some strange sounds as your vehicle shudders. It's important that you have this checked out as soon as possible by our professionals at AAMCO Bay area.
4. TURNING PROBLEMS
If you are experiencing problems when taking turns, there is a high likelihood that your driveshaft is worn. A damaged driveshaft prevents wheels from turning properly hence limiting your control of the vehicle. This is a safety concern and needs to be checked urgently at AAMCO Bay Area.
To ensure that your driveshaft is always in good working condition you should keep it well lubricated. Lack of lubrication can cause damage to the driveshaft and its components. High-use driveshafts should be inspected regularly since they can wear prematurely due to excessive movement.
GET THE BEST AUTO REPAIR AND DRIVESHAFT SERVICES AT AAMCO BAY AREA
Driveshafts are a core component of your vehicle's drivetrain. Any issues with them greatly compromise the drivability and performance of your vehicle.
Addressing your driveshaft issues promptly is crucial. If you experience any of the mentioned signs or If you need driveshaft and other auto repair services it's imperative that schedule an appointment at AAMCO Bay Area to have your vehicle inspected by professional technicians.