You're bound to hear a lot of different sounds over the life of your car. While some are normal, others can signal something more serious like a necessary engine repair. Unfortunately, sounds like engine knocking can mean problems that are causing serious engine damage. Your engine is both essential to keeping your car running and also not cheap to repair, so it's a good idea not to brush off engine knocking as no big deal.
Related: Things That Are Draining Your Battery
Related: All About Your Torque Converter
Related: Is It Time For New Spark Plugs?
WHAT IS ENGINE KNOCKING?
If your engine is knocking, what you're really hearing is fuel burning unevenly in your engine's cylinders. With the proper balance of air and fuel, small pockets of fuel will burn one at a time so that they are spaced out evenly. When that balance is thrown off, the shock caused by those pockets of fuel being burned off at the wrong time causes a knocking sound and shudder, which in turn may potentially be damaging the engine cylinders.
THERE ARE A FEW POSSIBLE CAUSES FOR ENGINE KNOCKING
So improper ignition of the air-fuel mixture in your engine is to blame for that knocking sound. But what can cause that response in your car's engine? There are a few possibilities – and luckily, you're able to try some of them on your own without rushing to a mechanic. However, if you've experienced engine knocking for a while, it's best to have a mechanic take a look to ensure more damage hasn't already been done to your engine.
YOU NEED NEW SPARK PLUGS
Your car's spark plugs are responsible for igniting the air-fuel mixture in your engine's cylinders. If one or more of them are worn or have failed, that ignition won't happen like it should. It's totally normal for your spark plugs to wear out over time but it's a good idea to keep up with replacing them before they fail to do their job.
Luckily, bringing your car in for a tune up service will take care of spark plug replacement. This is also an inexpensive car repair service, so it won't add too much stress for you or your wallet. As a general rule, you should aim to replace your spark plugs about every 30,000 miles, though that timeframe depends on the type of spark plug being used.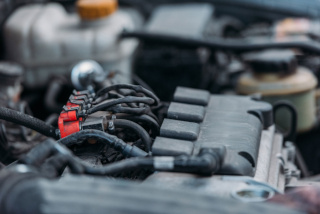 YOU'RE USING THE WRONG TYPE OF FUEL
Each car comes with different fuel requirements. Some cars, in particular more sporty cars, have engines built for high-octane fuel. Take a look at your car's owner's manual and make sure you're filling up with the right type of fuel. If your engine is built for high-octane fuel and you fill up with a lower-octane fuel, it can cause engine knocking. Prolonged use of the incorrect fuel type can also cause serious engine damage.
It may be tempting to save a buck at the gas pump by getting regular fuel instead of premium, if it's not the right type of fuel for your car, it's a bad idea. You'll end up spending that money you saved on fuel on engine repairs instead.
YOU HAVE A BUILD UP OF CARBON DEPOSITS
Some carbon deposits will naturally form in the engine, despite American fuel including carbon-cleaning detergents to help prevent them. The more these deposits form, the more compression there will be for the air-fuel mixture in the engine's cylinders. This can lead to engine knocking and can lead to engine cylinder damage.
Fortunately, a mechanic will be able to clean out those carbon deposits from your engine's cylinders to get things back to normal again. It's recommended that you or your mechanic regularly check for an excess of carbon deposits to head off engine knocking and the other damage it can cause, so don't skimp on car inspections.
WHEN YOUR CAR SOUNDS LIKE IT'S KNOCKING, CALL AAMCO BAY AREA
Knock knock, who's there? If your engine is knocking, bring it in to the expert mechanics at your nearest AAMCO Bay Area location. Don't let an engine repair bring you down. The sooner you have the problem looked at by a mechanic, the less likely you are to deal with a serious repair that will take a bite out of your wallet. Whether you're looking for regular maintenance to prevent engine knocking or are already experiencing it, give us a call.