Late for work and your car won't start? There are a few car repairs that could cause this very frustrating problem – and they may not all be what you'd expect. As with any necessary auto repair, bringing your car to a trusted mechanic is the safest option, but regardless of your DIY car care abilities, one of these underlying problems could be to blame for your car not starting.
Related: 5 Signs Of A Dying Transmission
Related: Car Battery & Stater Services
Related: Why Preventive Car Maintenance Is Important
THE CAR BATTERY
Not surprisingly, one of the most likely culprits is your car battery. A dead car battery can be a result of several problems, too. If it's been a while since you last got a new battery, your battery may just be too old and can't hold a charge anymore. In this case, you'll have to get to an auto repair shop to buy a new battery and have it installed.
CORROSION ON YOUR BATTERY'S TERMINALS COULD BE TO BLAME
If your battery is to blame, it could also simply be corrosion that's easily cleaned off. Pop the hood and take a look at the connections on top of your car battery. If you notice a lot of dirt, rust, and corrosion, you can sprinkle some baking soda on them, scrub with an old toothbrush, then rinse with water. This should get rid of enough corrosion to get your battery working again.
THE STARTER MOTOR
Your starter motor, true to its name, is responsible for starting your engine. More specifically, it turns your engine over and getting it to fire. Over time, it wears out, so it's not cause for alarm if this is a necessary auto repair in your case. However, if this is your problem, a mechanic will have to replace it with a new one to get your car running again.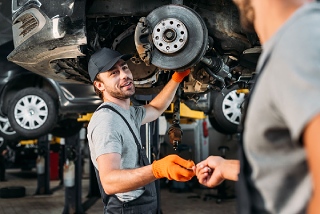 THE IGNITION COIL
Another key component in getting your engine running is the ignition coil. It's responsible for transforming voltage from your battery into an electric spark that ignites the fuel in the piston chambers in your car's engine. If your car's ignition coil isn't doing its job right, your engine won't start. With use, your ignition coil will wear out and can get damaged, but once it's unable to start the engine, it's time to get a new one.
A MULTIMETER CAN TEST HOW WELL YOUR IGNITION COIL IS WORKING
If you have access to one, a multimeter will test the strength of the electrical current in your ignition coil. It does so by measuring electrical current, voltage, and resistance. If you don't have access to one personally, it's what your mechanic is likely to use in determining what car repairs are necessary.
THE FUEL FILTER
Your car uses a number of filters to keep debris out of areas where they can cause more damage. One of those is your fuel filter, which is put in place to filter out grunge and debris from the fuel that enters your engine. Over time, it can become clogged, which will prevent adequate fuel from getting into your car's engine. This can keep your car from starting when you turn the ignition. If this is your problem, you'll simply need a new fuel filter installed.
THE DISTRIBUTER CAP
If you drive an older model vehicle built prior to 2008 its possible your car may have developed a faulty distributor cap. The distributer cap is responsible for routing voltage from the ignition coil to the spark plugs, which then ignite the air-fuel mixture in your engine. If it's broken or cracked, it allows moisture to get under the cap, which can cause a number of problems for your car's engine. You can remove the cap and wipe it out with a clean, dry towel for a temporary fix, but the distributer cap should be replaced.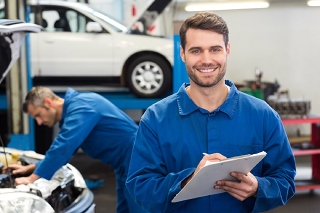 CAR NOT STARTING? AAMCO CONCORD AUTO REPAIR MECHANICS CAN HELP
No matter what car repair is needed, if your car won't start, it's a problem that needs to be taken care of as soon as possible. You can trust the mechanics at any AAMCO Bay Area location to quickly diagnose and fix any necessary repairs, whether it's simply an old battery or something more complex. Plus, we offer free towing to your nearest location, so you don't have to worry about paying to get your car to a repair shop.