You're halfway to work and making good time when suddenly you notice something new illuminated on your dashboard: the Check Engine Light. It might be tempting to ignore it for a while, especially if you aren't noticing other symptoms. But your Check Engine Light is a signal that you could have potentially serious car problems. There are a few common car problems that can trigger your Check Engine Light, ranging from easy to fix to more serious and urgent. Whether your problem is simple or serious, it's best to have a trusted mechanic run diagnostics and check for trouble codes.
Related: 5 Signs Of A Dying Transmission
Related: Car Battery & Stater Services
Related: Why Preventive Car Maintenance Is Important
A LOOSE OR WORN GAS CAP
Over time, your fuel tank's gas cap can become damaged or wear out. The gasket that maintains a seal when your gas cap is tightened can be one of the first things to go. It's also possible for the cap itself to crack. If either of those have happened with yours, it means gas vapors are escaping from your fuel tank. This will trigger your Check Engine Light and mean you can't pass an emissions test.
IF YOU RECENTLY TOPPED OFF YOUR GAS TANK, CHECK YOUR GAS CAP
Recently stop to fill up your gas tank? If your Check Engine Light is triggered, it's possible you didn't quite tighten your gas cap all the way before driving away. If this may be the case, just get out and try tightening your gas cap a bit. It can take a little bit of time for your Check Engine Light to turn back off if this was the underlying cause. If you drive another 50 miles or so and the light still has not turned back off, you may have another problem to address.
A DIRTY OR WORN OXYGEN SENSOR
Your engine relies on the right mixture of air and fuel to run properly. The job of your oxygen sensors, also called O2 sensors, is to monitor the amount of air going into and coming out of your engine via the exhaust system. A dirty or failing oxygen sensor can mean that ratio is thrown off, which can result in worse fuel economy, as well as trigger your Check Engine Light.
IF YOU NOTICE HALTING ACCELERATION, IT COULD POINT TO YOUR OXYGEN SENSORS
Another sign that can point to your oxygen sensors is a lack of power or halting acceleration. This is also due to an improper ratio of air to fuel in your car's engine. If your Check Engine Light is on and you also notice trouble accelerating, this is likely what you'll need done. However, it's always best to trust a mechanic to accurately diagnose a necessary auto repair.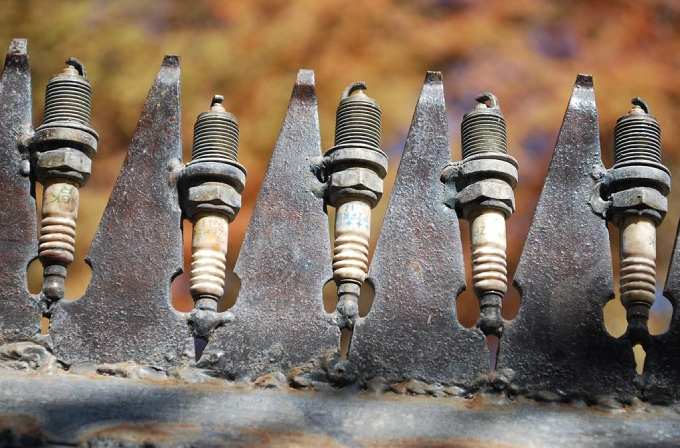 WORN OR DAMAGED SPARK PLUGS OR WIRES
Just as their name implies, spark plugs are responsible for the spark that ignites fuel in your car's engine. If any of your spark plugs or the wires around them are worn or damaged, it could trigger your Check Engine Light. Luckily, this is another simple and inexpensive fix for a car-savvy owner to do at home or a trusted mechanic.
GOT MISFIRES? YOU MAY NEED NEW SPARK PLUGS
Old spark plugs can trigger misfires, which can feel similar to the halts and lack of power from dirty or worn oxygen sensors. A misfire feel can feel like a sudden jolt as your car accelerates. Whenever you notice difficulty accelerating, it's a sure sign you have a car problem that should be addressed before it grows more serious, especially if the Check Engine Light comes on.
A FAILING CATALYTIC CONVERTER
Ever been behind a car and suddenly smelled rotten eggs? That's likely due to a failing catalytic converter, meaning that car's exhaust system isn't converting gasses properly before expelling them into the environment. Not only is this unpleasant, it can also trigger the Check Engine Light.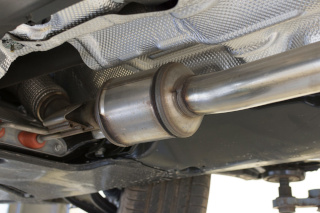 IF YOU HAVE AN UPCOMING EMISSIONS TEST, YOU'LL NEED THIS FIXED
Whether your car needs emissions tests annually or every few years, a failing catalytic converter just won't fly if you have one coming up. It may seem like you can continue driving with a failing catalytic converter, despite an illuminated Check Engine Light, but every time you do, you're expelling more harmful gasses into the environment. In a system that's functioning properly, those harmful gasses will be converted into safer compounds, meaning less exhaust overall is expelled from your car. It's a good idea to have a trusted mechanic like those at AAMCO take a look and get a new catalytic converter installed if necessary.
A BAD MASS AIRFLOW SENSOR
Similar to your car's O2 sensors, the mass airflow sensor helps control the air-fuel ratio in your car's engine. If it becomes dirty or wears out, the proper amount of fuel may not be sent into the engine for it to function as it should. This can trigger your Check Engine Light and impact your car's fuel economy.
KEEP UP WITH REGULAR MAINTENANCE TO HELP PREVENT THIS CAR PROBLEM
Part of your regular maintenance schedule should include having all of your car's filters replaced or cleaned. This includes your air filter, which can become clogged over time and impacts the mass airflow sensor. Filter changes are simple and often can be tagged onto other car maintenance services like oil changes. They also play a big role in the health of your car, so keeping up with regular maintenance can help prevent more serious repairs.
CHECK ENGINE LIGHT ON? COME TO THE MECHANICS AT AAMCO
You can trust the mechanics at every AAMCO auto repair shop to diagnose the underlying problem triggering your Check Engine Light. From running diagnostics and checking trouble codes to carrying out auto repair services, we have you covered.