Let's start with what a transmission is and does. Basically, your transmission is responsible for transmitting power from your car's engine to the wheels. Depending on your car's speed, your car will perform better in different gears, controlled by the transmission. The most common types of transmissions are automatic and manual. However, there are also Continuously Variable Transmissions (CVTs), which are less common but offer an interesting alternative. So, what's the difference between each of the three and which is best for you? Let's do a quick overview.
Related: 5 Signs Of A Dying Transmission
Related: Car Battery & Stater Services
Related: Why Preventive Car Maintenance Is Important
HOW DOES AN AUTOMATIC TRANSMISSION WORK?
Within automatic transmissions, there are actually two types: traditional and dual-clutch. Both can change gears without any effort from the driver, though some also allow the driver to take some control through either a shift lever or paddles on the steering wheel. This offers a happy medium between an automatic and manual transmission.
These transmissions may also change gears either hydraulically or electronically, depending on the vehicle. These cars will be able to monitor speed and make adjustments to the gear without the driver having to realize when a higher or lower gear is necessary for optimal performance.
AUTOMATIC TRANSMISSIONS ARE SIMPLER AND PREFERABLE FOR MANY DRIVERS
Many drivers prefer automatic transmissions because they're so easy to drive. You have just two pedals to deal with and the car does most of the work. Modern automatic transmissions also allow just enough control for many drivers to be willing to give up a manual transmission, through offering the option to change gears with paddles or a shift lever. This way, on hilly roads or in bad weather, the driver can still take over control to maintain power and traction how they want.
HOW DOES A MANUAL TRANSMISSION WORK?
On the other hand, manual transmissions give the driver control over which gear the car will be in at any given moment. Lower gears utilize more torque and operate at lower speeds, while higher gears use less torque and operate for longer at faster speeds. More gears have been added over the years, allowing manual cars to move at faster and faster speeds.
Cars with a manual transmission have a clutch pedal next to the brake that must be depressed when not accelerating or maintaining a speed with the gas pedal. When changing gears, the clutch pedal is depressed so that the clutch can move into the new desired gear.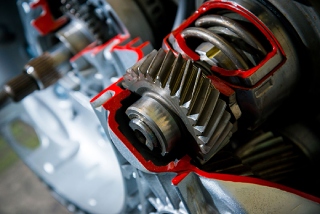 MANUAL TRANSMISSIONS GIVE DRIVERS MORE CONTROL
Many drivers prefer manual transmissions because it gives the driver control over power and speed at any given moment. This can allow for a better overall driving experience, especially helpful in bad weather or when driving in mountains or on steep inclines, since the driver can keep the car in lower gears with more torque. They can also be tricky to learn how to drive and some people struggle with them more than others. It can take a while for people to get the feel for when to let off the clutch pedal without stalling the engine.
HOW DOES A CONTINUOUSLY VARIABLE TRANSMISSION (CVT) WORK?
Generally speaking, the more gears a car has, the better overall performance. That's what makes the CVT stand out from the rest. In theory, a CVT has an infinite number of gears. This is pulled off through a belt and pulley system rather than using traditional gears like an automatic or manual transmission. There are two cones facing one another and two V-shaped belts that slide up and down those cones, "shifting" fluidly from one gear right into the next. Essentially, the car is always in the optimal gear for how much power and speed is needed at any given moment.
CVTS OFFER A SMOOTHER RIDE
Because there is no real shift from one gear to another, this transmission offers a much smoother ride than either an automatic or manual transmission. Because the RPM is always relatively steady, they can also get better gas mileage. At the same time, it can take some adjusting to get used to driving them because of such a drastically different feel.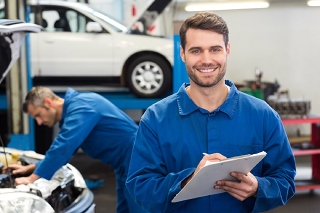 TIME FOR A TRANSMISSION REPAIR? AAMCO BAY AREA MECHANICS CAN HELP
No matter what type of transmission your car has, the mechanics at AAMCO Bay Area are transmission experts that will be able to carry out any necessary repair or regular maintenance. Rest easy knowing your car is in good hands.