The dreaded transmission repair. Possibly the last thing you want to hear is that your car's transmission needs a repair or has failed. However, ignoring a problem early on is only likely to cause you more problems down the road – and cost more money. Your transmission is one of the most important parts when it comes to keeping your car running. That means it's a good idea to keep up with regular maintenance and keep an eye out for signs you may have transmission trouble.
Related: Things That Are Draining Your Battery
Related: All About Your Torque Converter
Related: Is It Time For New Spark Plugs?
WHAT DOES YOUR TRANSMISSION DO?
Simply put, your transmission helps transfer power generated in the engine to your car's wheels. It does this by controlling which gear your car is in, whether you have an automatic or manual transmission. It also is similar to your car's engine in that it uses fluid to lubricate metal parts working inside the transmission. Transmission fluid helps reduce friction and even helps prevent overheating. Regular maintenance should keep an eye on key parts of your transmission as well as the condition of your transmission fluid.
SIGNS OF YOUR TRANSMISSION FAILING
Knowing what signs point to transmission trouble can help prevent major transmission repairs like a transmission rebuild. In combination with following the recommended regular maintenance schedule, getting your car to a mechanic when you notice any of these signs will help both your car and your wallet in the long run.
NEW AND STRANGE SOUNDS FROM UNDER THE HOOD
There are a lot of sounds that come from your car, both good and bad. Knowing what's normal for your car is important so you can take note when it changes. Any new sound that you haven't heard before should be taken seriously, but especially so if it's a humming, buzzing, whining, or clunking coming from under the hood of your car. Depending on what type of transmission you have, the likely sounds differ. You're likely to hear humming, buzzing, or whining with an automatic transmission. With a manual transmission, more mechanical clunking sounds are a signal of impending transmission failure.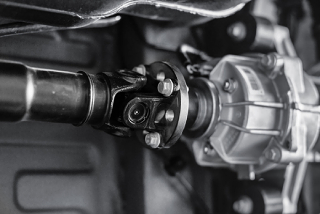 DIFFICULTY CHANGING GEARS OR STAYING IN GEAR
Not only does it make it hard to drive your car, but also if you're having trouble changing gears or staying in gear, it's a bad sign for your transmission. The culprit could be as simple as your transmission fluid or as serious as internal mechanical failure. Either of those options can still cause serious damage if left unchecked.
GRINDING WHEN CHANGING GEARS
If you have a manual transmission and notice grinding when trying to change gears, it's a sure sign you need a transmission repair. On the other hand, if you have an automatic transmission and notice hesitation during gear changes, it's a similar indication. In either case, it's a good idea to get your car to a mechanic as soon as possible to prevent further damage.
LEAKING TRANSMISSION FLUID
Your transmission is a closed system, just like your engine. And just as seeing engine oil leaks under your car signifies a problem, so does noticing a transmission fluid leak. If your transmission doesn't have sufficient fluid levels, the working parts inside your transmission are at risk for extra wear and damage, as well as the risk of your transmission overheating due to extra heat generated from friction.
EXTRA NOISE IN NEUTRAL
Pay attention to your car when it's in neutral before you shift into gear. If you notice any strange sounds, it can be an indicator of transmission trouble. Early on, it could be as simple as needing new transmission fluid but letting that go too long can still result in transmission failure.
SLIPPING GEARS
If your car is slipping gears, it may unexpectedly slip out of gear or be difficult to get into the proper gear. This poses a real safety issue with driving your car. You'll may have to slam on the brakes or gas pedal just to maintain some control over the car. At this point, your car problems are about more than just the car and your own safety – it's also a safety risk to other drivers around you.
TRUST THE EXPERT MECHANICS AT AAMCO BAY AREA
Time for a transmission repair? Trust AAMCO Bay Area mechanics to diagnose what's causing your car problems and get it fixed so you can stay safe on the road. Don't risk causing more serious damage by procrastinating. And if you're worried about driving your car, we offer free towing services to your nearest location to ensure you and your car arrive safely.