You're cruising down the road, shift up a gear – and your car falters a little, slipping back into another gear. As your car gets up there in miles, you're increasingly likely to experience your transmission slipping when you try to change gears. This is a typical sign of aging transmission and there are a few key things that may be causing yours to slip.
HOW CAN YOU TELL YOUR TRANSMISSION IS SLIPPING?
Unfortunately, when you start to encounter signs of your transmission failing, slipping is common. There are a number of signs you need a transmission service to prevent transmission failure. Some are more common or noticeable than others, but here is a list of some symptoms to keep an eye out for:
Engine revving at odd times
Difficulty accelerating Difficulty changing gears, especially reverse
Strange noises from under your hood, including grinding
Burning smells
Check Engine Light comes on
Generally speaking, you'll notice a delayed response from your car if your transmission is slipping. Whenever you notice any of the above signs, don't hesitate to get your car to a trusted mechanic to prevent an even more costly and time-consuming transmission repair.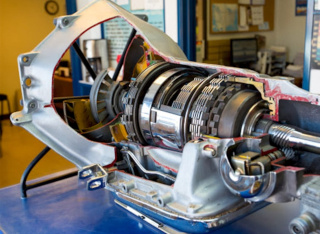 WHAT CAN CAUSE YOUR TRANSMISSION TO SLIP?
So your car hesitates, revving when it shouldn't and struggling to accelerate – what could cause your transmission to start slipping? There are a number of involved parts in your car's transmission that could be to blame.

YOUR TRANSMISSION FLUID IS LOW OR BURNT
Over time, your transmission fluid becomes increasingly contaminated, can burn off, or simply become burnt. If your transmission fluid needs replacing, you may experience a slipping transmission. To prevent this, it's a good idea to get a transmission fluid flush done regularly, according to the schedule in your owner's manual.
The older and more burnt your transmission fluid, the less able it is to keep the parts in your transmission lubricated and functioning properly. This can cause overheating as well as slipping and extra wear.
YOU HAVE A FAILING SOLENOID
Your car's solenoids are responsible for controlling the flow of transmission fluid, both how much and when transmission fluid circulates through particular parts of your transmission. When you want to change gears, the solenoids in your car's transmission helps make that happen by opening up corresponding parts of your transmission to the flow of transmission fluid. As transmission fluid becomes dirty and burnt from use, it can clog solenoids, causing them to get stuck in either an open or closed position.
YOUR TRANSMISSION BANDS ARE WORN
Transmission bands play an integral role in shifting gears in your automatic transmission. More specifically, they link together all the gears. When they become worn or broken over time, they aren't able to properly keep the gears in place. Sometimes, all that's required is an adjustment. However, if your transmission bands are old and over-worn, you may need them replaced altogether to prevent further damage being done to your transmission.
YOUR GEARS ARE WORN OUT
Part of normal wear and tear, your gears will wear out over time. If your transmission fluid is old, contaminated, and/or too low, it will speed up that wear on tear on your gears. This can cause them to not engage properly, leading to a slipping transmission.
TROUBLE WITH YOUR TORQUE CONVERTER OR CLUTCH
Both manual and automatic transmissions require some sort of clutch system that's integral to changing gears. In automatic transmissions, the torque converter transfers the engine's power to the car's wheels so that the vehicle can move forward. In manual transmissions, the main clutch is essential in this role. If either of these parts have become too worn, they can cause your transmission to start slipping.
WHAT CAN YOU DO WHEN YOU NOTICE YOUR TRANSMISSION SLIPPING?
The safest thing to do when you notice your transmission slipping is to avoid driving when not absolutely necessary. The longer you continue driving, the more you risk causing extra damage to your car's transmission – as well as it becoming a real safety issue on the road.
COUNT ON AAMCO BAY AREA TO HELP WITH YOUR TRANSMISSION REPAIR NEEDS
At AAMCO, all of our mechanics are transmission experts. No matter what trouble you're having with your transmission, we can diagnose and carry out any necessary transmission repair. When possible, we can fix specific parts inside your transmission to avoid a full replacement, saving you both time and money.