It's no fun when you're cruising down the road and suddenly your engine temperature light comes on. It's important to address and fix a car overheating regularly, as well as know what to do in the moment when your engine gets too hot. There are also a few signs you can pay attention to that signal you may soon be dealing with an overheating engine.
Related: Things That Are Draining Your Battery
Related: All About Your Torque Converter
Related: Is It Time For New Spark Plugs?
WHAT ARE THE SIGNS OF YOUR CAR OVERHEATING?
Of course, the most obvious sign that your engine is overheating is the temperature gauge or, if it has gotten bad enough, the engine temperature warning light. It's a good idea to keep an eye on your temperature gauge so that you're more likely to notice early on that your engine temperature is running higher than it should. If your engine is overheating, you may also hear ticking sounds, notice a "hot" smell, see steam coming from under the hood, or notice a lack of power from the engine. It's important not to ignore any of these signs to avoid engine failure.
THE MOST LIKELY CULPRIT IS A PROBLEM WITH YOUR COOLING SYSTEM
If you have an overheating engine, the most likely problem you're dealing with is a cooling system repair. It's possible you have a coolant leak, meaning there isn't enough coolant to circulate and properly maintain an optimal temperature in your engine and transmission. Another likely possibility is that you need a radiator repair. Whatever necessary car repair you may have looming, it's best to leave it up to a trusted mechanic to do vehicle diagnostic work so that the underlying problem can be fixed as soon as possible.
WHAT SHOULD YOU DO WHEN YOU NOTICE YOUR ENGINE OVERHEATING?
So, you're engine is overheating – what should you do in the moment to help prevent engine failure? The key is to not keep driving like normal, because the longer you drive with an engine that's overheating, the more you risk causing more severe damage. In fact, many modern cars will automatically shut off an overheating engine to prevent severe damage. Here are a few things to do if you run into this problem.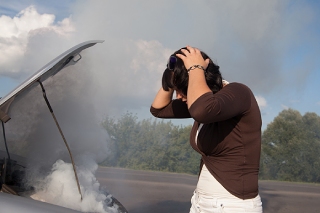 TURN ON THE HEAT
It may be the last thing you want to do on a hot summer day, but turning on the heat actually draws heat away from your engine. Depending on how bad your case is, it may be able to bring down your engine temperature enough to get your car to an auto shop. But don't push it and keep an eye on your temperature gauge.
PULL TO THE SIDE OF THE ROAD
The best thing to do for an overheating engine is to make your way to the side of the road. You're always better off safe than sorry when it comes to your engine and shutting off the engine is really the surest way to cool your engine temperature.
WAIT IT OUT & TAKE YOUR TIME
Once you've pulled to the side of the road, take your time. It can take about 15 minutes or so for your engine to cool enough to start driving again. If your car continues to overheat when you try driving again, take it easy, pull over again, and let the engine cool between attempts. If you choose to open the hood of your car, be careful of hot temperatures and be sure to let the engine fully cool before checking your coolant level.
ADD COOLANT
If you have coolant on hand, adding some should help your engine cool off – just be sure to let your engine fully cool before opening the radiator cap. As you twist the cap, it's also a good idea to take it slow and start with quarter turns to gradually release the pressure. Even after you've added coolant, keep an eye on your temperature gauge while driving.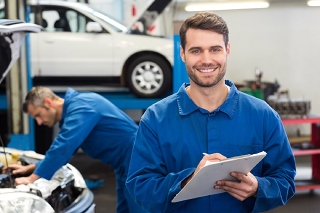 FIND A NEARBY AUTO REPAIR SHOP
Even if letting your engine cool and adding coolant helps, it's likely a temporary fix. There's still an underlying problem that needs to be addressed so that your engine won't continue to overheat regularly. The best thing to do is find a trusted mechanic and have them take a look.
TIME FOR A COOLING SYSTEM REPAIR? TRUST AAMCO BAY AREA MECHANICS
If you're dealing with an overheating engine, you need mechanics you can trust – like the mechanics at any AAMCO Bay Area location. With years of experience and training, we're prepared to accurately diagnose and repair any problem you're having with your vehicle.